It's no secret that we love food here at Apple Brides, and lucky for us there are so many amazing catering options in the Spokane area! Whether your wedding vibe is elegant and refined, backyard BBQ, or rustic chic, there is a caterer perfectly suited to fit your needs! We've rounded up a few of our favorites... just try not to drool on your device as you scroll!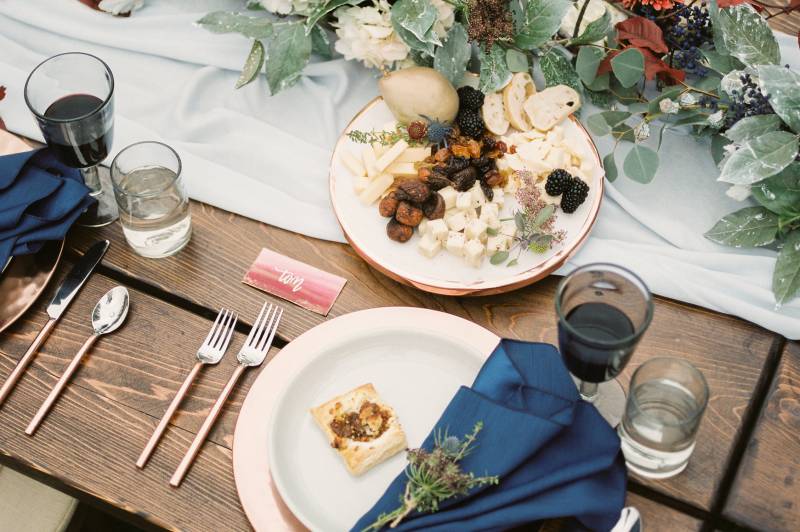 Photo by Urban Rose Photo
BEACON HILL CATERING
Beacon Hill Catering and Events strives to provide handcrafted catering with distinctive service that allows your day and guests to comfortably enjoy your special event. It's their goal for each couple to choose memorable food that fits their events needs and budget. They will work with you to create a totally custom menu from incredible bite-sized appetizers to mouth-watering entrees, and jaw-dropping desserts of any kind. And their bacon-wrapped dates with goat cheese hors d'oeuvres alone will have your guests drooling for months!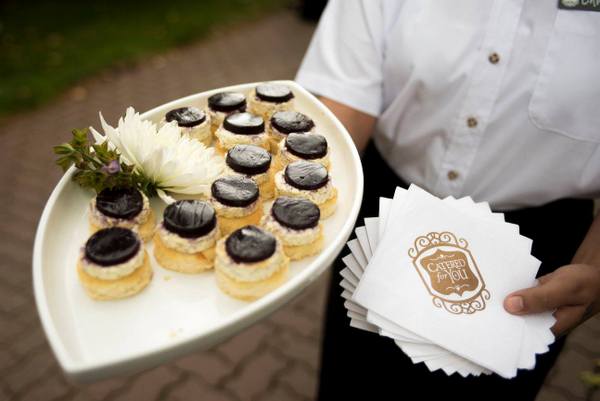 Photo by Alexander Herrera
CATERED FOR YOU
Catered For You is a full-service, off-premise catering company located in the heart of Spokane and owned and operated by Romeo and Linette Herrera. Chef Romeo brings over 30 years of culinary experience to the table (pun intended), while event planning extraordinaire Linette offers a creative and detailed approach to your special event that is tailored to fit your unique vision. Together with their team of hard working employees, Catered for You has been serving up five-star cuisine and unforgettable events for nearly 20 years, which means they know a thing or two about weddings!
COMMELLINI ESTATE VENUE & EVENT RESTAURANT
Commellini Estate is known for their freshly prepared, delicious Italian menu and exceptional service. They specialize in homemade traditional rustic Italian cuisine, with menu options include the famous Chicken Cacciatore and Chicken Ravioli brought over from Italy by Leda Commellini in 1918. With such a rich and colorful history, Commellini's truly provides a unique and contemporary menu you will rave about.
GREENBLUFF FRESH CATERING COMPANY
Greenbluff Fresh Catering embodies the idea of "farm to table dining" at every event they cater. They utilize hand-picked fruits, veggies, and herbs from local Greenbluff farms whenever possible. They believe it's essential to work with local farms because the quality of the fruits, vegetables, honey and eggs are far superior to commercial produce and they help keep small farmers in business! You can give your guests a truly local wedding experience, complete with placards sharing exactly which farms your food comes from!
Photo by Heather Biggs Photography
MANGIA CATERING COMPANY
Mangia Catering not only offers a variety of options for catering every type of wedding, they cook up fresh and delicious food inspired by local favorites. They will cook all of your food on-site, ensuring a savory, hot, and amazing tasting meal for you and your guests. Mangia loves to cook seasonal menus and their Summer BBQ menu is a huge hit for local weddings! Featuring Huckleberry BBQ Chicken and Grilled Tri-Tip, we can certainly see why!
Photo by Jessica Mumm Photography
THE IVORY TABLE CATERING COMPANY
Whether you have a guest list that redefines menu restrictions (gluten free, vegetarian AND keto diet? It's covered) or you just love the farm to table concept, The Ivory Table is sure to blow your foodie mind! With over 2 decades of fine dining industry experience, this crew will set the bar higher than you could imagine for your big day. They combine Northwest ingredients with classic French techniques and often explore flavors of the Mediterranean and the Orient.
TREZZI FARM CATERING
Italian wine and food are Trezzi's passions. In Italy, the culture revolves around growing, cooking, and eating all with a glass of wine in hand. Davide, the owner and winemaker, is an incredible home cook. He grew up on foods prepared by his mother and grandmother, classic recipes of Northern Italy's Lombardia region. Davide has been in the food industry for over 20 years. Trezzi Farm is proud to offer fresh homemade foods made using estate wines, garden herbs and seasonal vegetables grown on their on-site farm.
VERACI PIZZA
Veraci Pizza uses their applewood fired oven to make pizzas right there at the wedding! Which means you and your guests get fresh and DELICIOUS pizza with a variety of gourmet toppings that are sure to please every critic (or guest!). They also make tasty salads and sides to complement their pizzas. And bonus! The oven doubles as a fun conversation piece for your event.