Trying to find the perfect place to host a bachelorette weekend in the Northwest? Today we're highlighting Whitefish, Montana! A 4-hour drive from the Spokane area, this picturesque town has a lot to offer no matter the season. Not to mention, it's a fairly affordable weekend getaway for all of your besties to celebrate your upcoming day! Here are a few of our favorites from this little mountain town: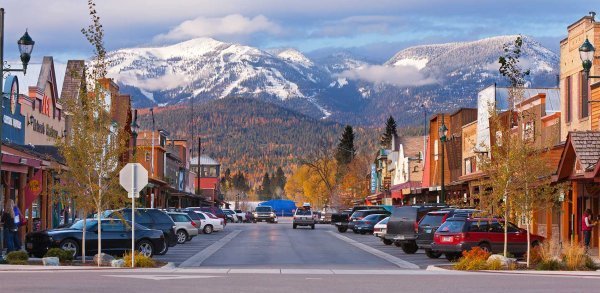 Where To Stay:
Airbnb's
Vacation rentals are always a win for group parties, as you can all stay in one place! There are great spots to stay around Whitefish depending on what you're looking for. You can stay on the mountain, close to the beach, or right downtown. One thing we suggest looking for when booking a house in Whitefish is a great hot tub, because nights are chilly all-year-round!
Grouse Mountain Lodge
If you're interested in more of a hotel experience, Grouse Mountain Lodge is a great option. The prices are affordable, they offer a shuttle to downtown, and they have a great pool and hot tub. It also offers an unforgettable rustic charm that comes to mind when you think of Montana!
Firebrand Hotel
It doesn't get more in the heart of downtown than the Firebrand Hotel. You are just seconds away from the hottest bars, tons of local shopping, and incredible views. With a modern rustic-chic vibe, the Firebrand is home to a great bar and relaxing spa. It's a bit pricier, but the convenience is definitely worth it!
What To Do:
Whitefish Mountain Resort
During the winter, this local ski resort is an obvious destination. With plenty of skiing options and a few different lodges, everyone will be able to find something to do in this snowy wonderland! As for the summer, Whitefish Mountain Resort offers mountain biking, zip-lining, tubing, and an aerial adventure park that would make for some great bachelorette memories.
Glacier National Park
This national gem is only a short car ride away from Whitefish, and is truly a must-stop destination. If your squad is interested in hiking, you can plan a trek for any beginners up to those most experienced. If your party is during the peak of summer, hit up the Going-to-the-Sun Road for the most unforgettable views! (Bonus: you can take a free shuttle so everyone can soak in the sights.)
Whitefish Lake
If you're visiting during the summer months, Whitefish Lake is the perfect place for lounging and soaking up some sun! The city beach features sandy shores and a fun snack bar. Insider tip, get there early to claim a spot because it can get extremely busy on the weekends!
Downtown Shopping
Whitefish has one of the most picturesque downtowns that you can imagine. Think Stars Hollow from Gilmore Girls nestled right in the Rocky Mountains! There are so many adorable shops with everything from tourist trinkets to incredible local art to high-quality fashions.
Where To Eat/Drink:
There are so many great restaurants and bars in downtown Whitefish, here is a shortlist of some of our favorites!
A local high-end favorite with everything from elk meatloaf to southern catfish. Definitely make reservations far in advance! (Pictured above)
Jersey Boys has great pizza (obviously) but also a list of fantastic sandwiches as well!
Featuring classic Italian fare, there's something for everyone at Ciao Mambo. Again, make reservations ahead of time!
With multiple levels and an impressive outdoor patio, Casey's is kind of the "go-to" bar for bachelorette parties in Whitefish. However, there may be a cover charge for a live band on the weekends, so be sure to call ahead!
This is the quintessential Montana bar! A little more on the divey end, but that's why locals love it.
With a great food menu and a fun patio, this is the perfect bar to transition you and the gals from day to night!