One of the hallmarks of getting married in the Inland Northwest, if you ask us, is getting married outdoors. It's too gorgeous not to spend time outside on one of the best days of your life! So if fresh air is on your radar during your wedding venue search,
Castle Vineyards
is about to blow you away! They're sharing with us everything they have to offer couples (you'll be impressed!) and some of their most popular hidden spots on property.
What type of wedding does your venue work best for?
Our venue works best for romantic, late afternoon, evening weddings, where you can take advantage of our extensive outdoor lighting and ambiance given by the flickering fire heater.
What makes your venue unique?
We are here to make your vision come to life. We are happy to give you advise and guide you thru the planning process, but we take your vision and make it happen. We allow you full freedom to pick your own cater and bring your own alcohol. We do all of the setup, decorating and break down for you, this even includes packing your items back into your vehicle for you! We do not have a specified number of hours you can be on site on your day; you are welcome to enjoy your suites anytime you would like.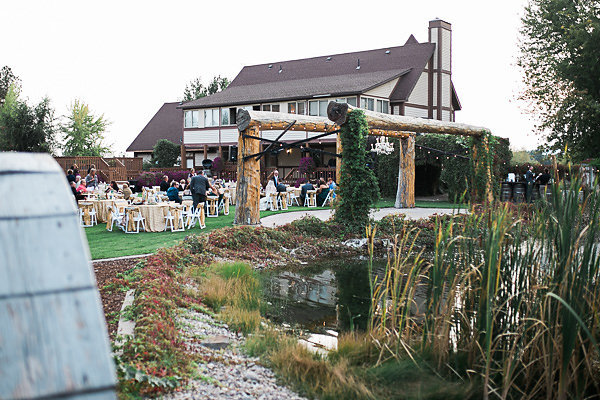 What is the capacity of your venue?
We have all of the tables, chairs, linens, and centerpieces you will need for a 200 guest wedding, if your guest list is more we do not have any additional fees, you can bring in the additional items needed up to 250 guests.
What are your catering guidelines?
We want your day to be exactly how you envisioned it! You are welcome to hire any cater you would like or do it yourself!
Do you have a ceremony location?
Our most popular ceremony location is in front of our eight foot high, eight foot across, waterfall. We also do many ceremonies to the right of the waterfall in front of our greenery engulfed wall and crisp white roman columns, or in front of our pond and fountain underneath the giant tree timbers.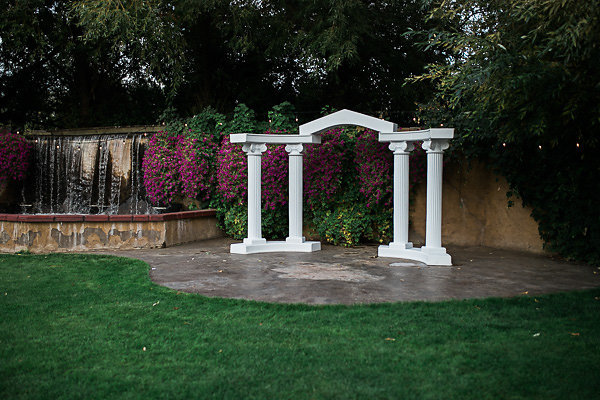 What is your best advice for couples planning their wedding?
Whatever venue you fall in love with, make sure you are allowed to make it yours on your special day! You want the ability to have your personality shine, and have this day feel just the way you always imagined it to be. Also choose your vendors wisely, if they are doing a good job, you will be seeing a lot of them on your day, and you want to make sure personalities fit.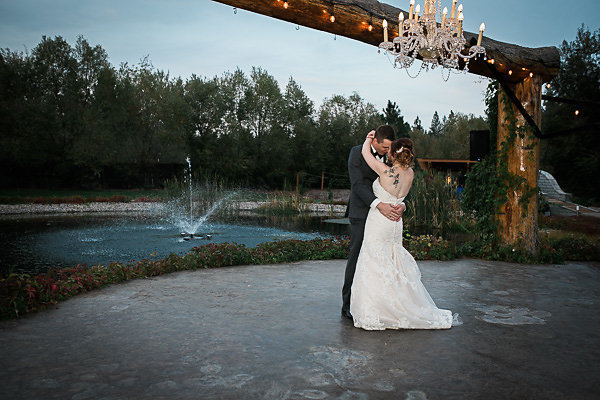 What is included in your packages?
We include all tables, chairs, selection of linens, selection of table decor, a selection of aisle decor, professional DJ, photo booth, venue coordinator, parking attendants and complete setup, break down and staff to ensure your day runs smoothly. You are welcome to use any of our additional decor, chafing dishes, beverage dispensers, cake cutters, flower girl baskets, ring bearer pillows, at no additional cost. We never add anything to the package price. No cake cutting fees, corking fees, per person charges, per hour charges, or taxes.
What is the price range of your venue?
$6300 for Saturdays, $5800 on non-Saturdays and every event in May or October are discounted by $500.