One of our favorite up and coming trends in the bridal world is that of "extended beauty," such as lash extensions, permanent makeup, etc. Anything that makes you feel more beautiful and makes your life more easier is MORE than a win in our book! That's why FACES by Jennifer Welch is one of our favorite wedding pros, because not only is she an expert makeup artist, she also specializes a variety of beauty treatments that help you get ready for the big day! Learn more about permanent makeup, how to choose your wedding day look, and the most popular pre-wedding treatment from our interview with Jennifer Welch herself!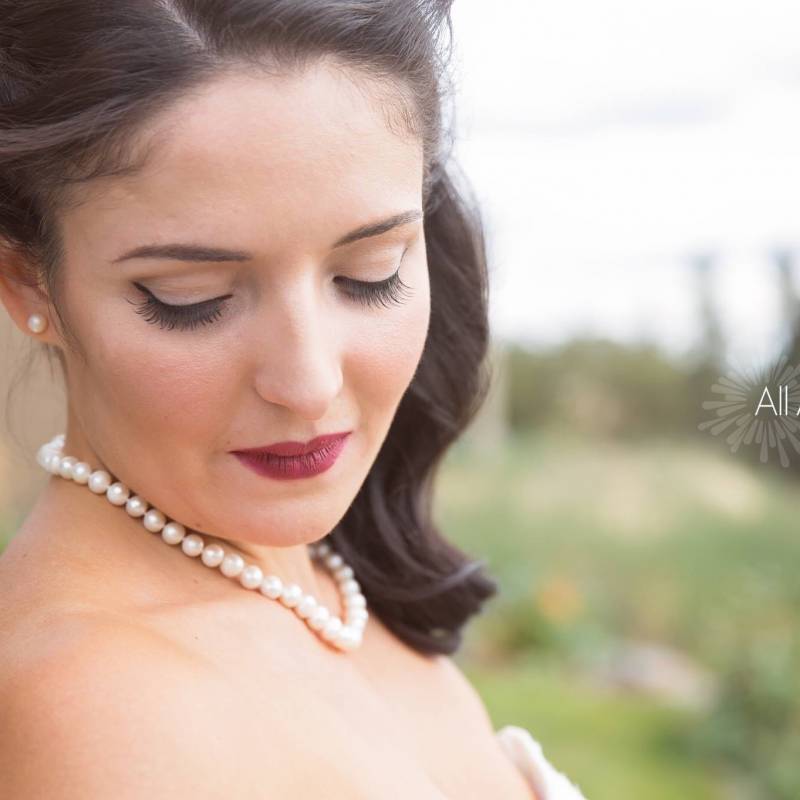 Tell us a little about all the different services you offer?
I do several services pertaining to faces, including: Microblade Brows, Permanent lipstick, Permanent Eyeliner, Beauty Marks, and Tattoo removal, as well as: Special Event, Film and Photography Makeup; Lash Extensions; Lash Lift n' Tint, Brow Shaping/Waxing, Facial Waxing, and Makeup Lessons.
Why should brides consider lash extensions for their big day?
Lash Extensions are nice because they make it as though you've already put your makeup on in the first place, so even before your beautician arrives to start gussying everyone up, you're already practically picture ready right out of bed! Plus - your lashes can stay almost as beautiful throughout your honeymoon, as they were on your wedding day, which is amazing whilst spending the next days after your wedding, just focusing on your new spouse!
How does the tattoo removal process work?
This is an all natural method which involves a hypertonic saline solution , which when rubbed into the skin with a clean tattoo needle, directly onto the tattooed area, will then pull the ink particles up and out of the skin through bleeding. It then will form a scab, and with the scab falling off, the tattoo lightens. This may very well take as little as one session, or it could take an unpredictable amount of sessions. This will depend on the type of ink used and how many layers of pigment that have been inserted into the dermis, in the tattoo.
How do you help brides choose the right makeup/hairstyle for their wedding day?
When I first start to talk to a bride about her wedding day look, I ask her some questions. I like to know what her dress looks like (is it asymmetrical? Is it a high neck? Low cut neck? Sleeves? Low back? I want to know how she sees her hair in her head (by looking at photos of hairstyles she likes or ones that I recommend). And of course, her hair's manageability is important as well, so if her hair will not necessarily work in a particular style she wants, I can recommend ways to get her hair to better do what she would like.
What hair and makeup products do you use?
I use a range of products and brands. I am rather adventurous as far as products. I use Dinair Airbrush foundation, some MAC, Too Faced, Urban Decay, Kat VonD, Lorac, and that is only to name a few! For hair, I love Biologe, Big Sexy, Redken... just to name a couple. It just depends on the consistencies, applicability, and wearability of the products.
Tell us about your most popular permanent makeup treatments.
The most popular permanent makeup service is Microblade brows! The ladies are obsessed with the fine realistic hair strokes and near perfect brow shape I provide them. I love to do permanent lipstick as well, but of course, eyeliner is a big favorite - who doesn't want a naturally enhanced lash line? Permanent Makeup is so fantastic for so many ladies for many reasons! Ladies who may benefit from it by saving them time, energy and frustration, are: the lady who has always been very particular about her makeup but is losing her eyesight and or a steady hand in application; the lady who wears glasses - (is it easy to apply your eye makeup whilst wearing glasses?); the lady who's brows have either been tweezed so much that they will never grow back or the one who just doesn't have much brow hair there, if any at all; the lady who has had bad permanent makeup and needs a correction; and the lady who is on the go! An on-call nurse is a PERFECT example... this is her saving grace if she gets called in in the middle of the night! Gift Certificates available!
Will you travel and is there a fee?
I do definitely travel sometimes, it just depends on what the bride and I work out, how big the party is, the location of where the party is getting ready, as well as day of timeline. Trial runs are most always at the salon, but weddings can be done on location for a travel fee outside of Spokane and Spokane Valley; or the party can come to the salon. My salon is available on weekends for wedding parties to takeover, relax, get pampered and perhaps enjoy communion, cocktails and laughs together before the big event!
What is the price range of your services?
A menu of services and prices are all available on my web page: Faces by Jennifer Welch - Home There is a minimum contracted amount of $500 for booking an on location event on a weekend day.