Spokane's glorious Art Deco theater, Martin Woldson Theater at The Fox, is a perfect wedding venue for brides and grooms who want glitz, glamour and good value. The fully restored 1931 theater in the heart of downtown, on the National Register of Historic Places, is one of Spokane's most important historic buildings. Getting married at "The Fox" will wow your guests with stunning architecture and luxurious spaces.
Your ceremony will be held on the same stage where Frank Sinatra, Bing Crosby and Katherine Hepburn performed (not to mention Chris Cornell, Lyle Lovett, Tony Bennett, Robin Williams and Melissa Etheridge!). Your reception is held in the stunning Grand Lobby which is decorated with nature-themed murals by Anthony Heinsbergen, and in the intimate Founders' Gallery, with its Art Deco light fixtures and golden glow. You won't have to decorate much at Martin Woldson Theater at The Fox, if you don't want to; the theater does all the work. If you love art, architecture and drama, "The Fox" is a memorable venue for your special day.
The Fox Theater highlighted a few details that make Martin Woldson Theater at The Fox a great place to get married.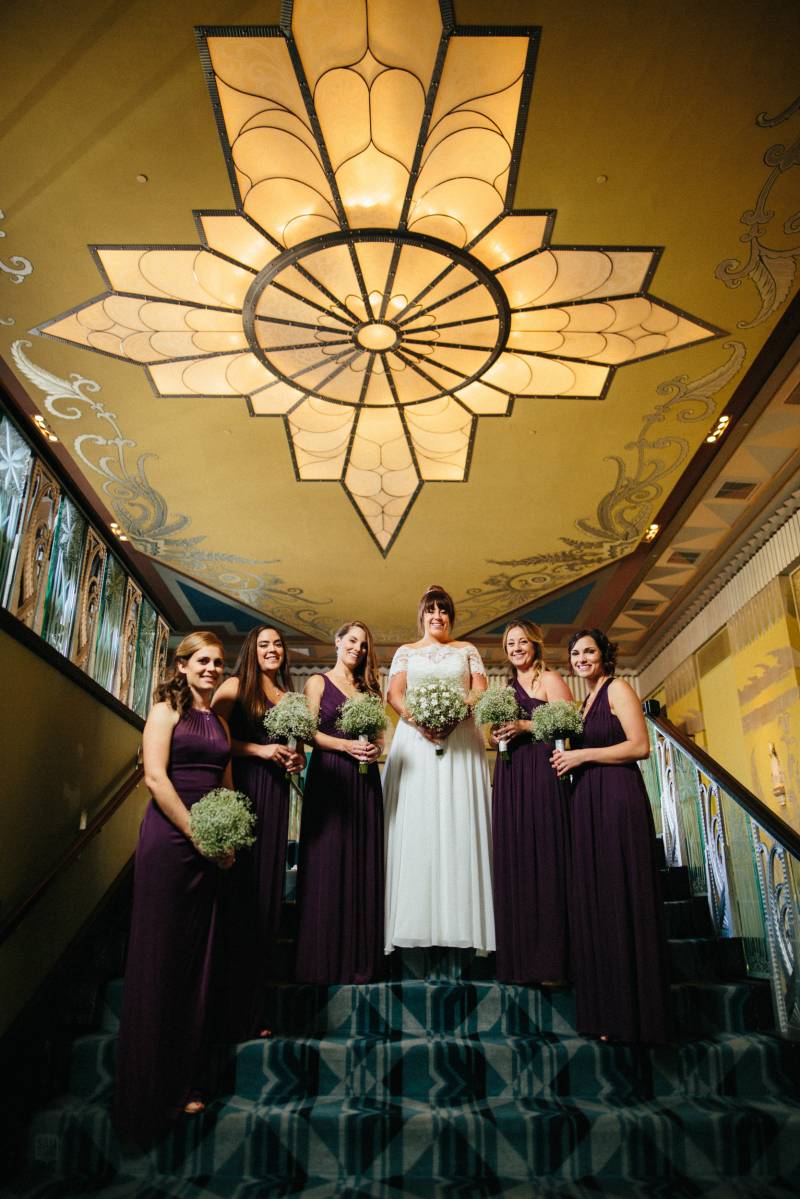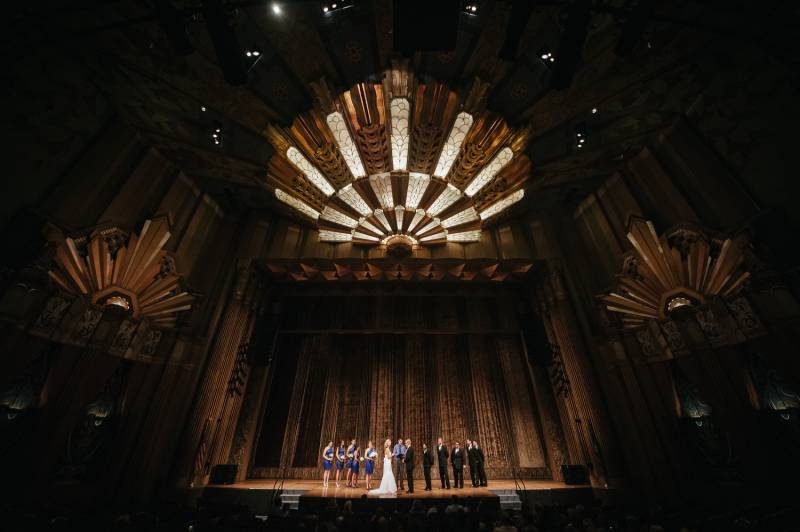 WHAT SPECIAL FEATURES DOES MARTIN WOLDSON THEATER AT THE FOX OFFER?
The Fox offers a variety of intimate and grand spaces throughout the auditorium and lobby. Your wedding ceremony will be held on the beautiful stage, under the stunning sunburst light fixture and forest canopy murals on the ceiling. Depending on the size of your wedding, we can block off the seats in the theater so that your guests sit in the middle of the orchestra section and feel close to you.
Theatrical productions are what we do. All ceremony details, from lighting and sound to stage set-up and processional cues are coordinated by our team of production and event professionals. With discrete microphones and strong acoustics built-in, you can relax and your guests can take in the ceremony.
You and your whole entourage will get the star treatment. We have private and secure dressing rooms for both Team Bride and Team Groom.
It's a blast to see your names in lights on our marquees outside, and you can use the marquee for engagement photos too, with a special "Save the Date" message.
There are various lounges and galleries in the theater that can be used creatively. One couple set up tables in the mezzanine with games and puzzles. Our ladies lounge in the lobby has a chandelier where we often hang the wedding dress for a photo (and it's a great spot to steam it too!).
WHAT MAKES THE FOX THEATER A GOOD VALUE?
Originally built as a Fox movie theater in 1931, our venue is now owned and operated by the Spokane Symphony. Because the Symphony season runs from September through May, our summer rates are less expensive than other venues during peak wedding season.
Our rates include tables and chairs for up to 200 guests, a dance floor, onsite coordination and staffing, and much more. Bar service is facilitated by our staff from the main bar in the Grand Lobby. You can choose from a broad list of caterers for your unique experience.
WHAT WEDDING PLANNING SERVICES DOES THE FOX OFFER?
You can count on our onsite wedding coordinator to see that your plans and dreams are realized through the hard work of our set-up crew, bar staff and technical professionals. On your wedding day, our staff is with you every step of the way, from your arrival at The Fox to get ready, to sending you down the aisle. We'll manage your timelines, work with your vendors, troubleshoot and solve any issues that come up, and help to box up décor at the end of the reception while you're saying goodbye to your guests.
We're proud of the warm, family feeling we create at The Fox. It's not unusual for couples to come back to Martin Woldson Theater at The Fox for concerts and events months after their weddings, and seek us out to say "Hi," and fill us in on post-wedding life! We love that. We want you to have your perfect day, and we all work hard to achieve that.