When you live in an area with such incredible outdoor scenery like the Inland Northwest, it makes it easy to have an amazing outdoor wedding. Some of our favorite venues are nestled in the mountains or next to a sparkling lake, and so we thought we would round up our absolute favorite mountain and lakeside venues.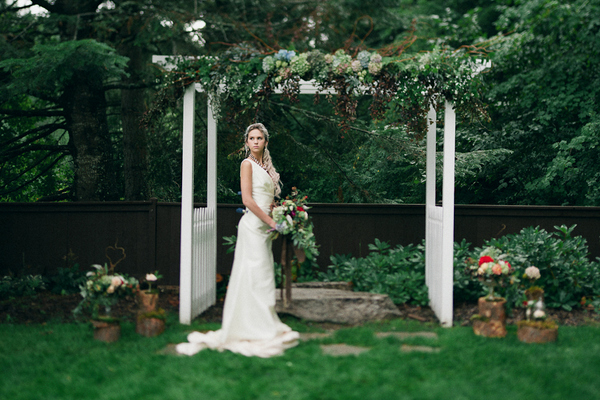 Photo by Designer With A Camera
Bear Creek Lodge & Event Center
The charming lodge atmosphere, unbeatable surrounding mountain landscape and the exceptional customer service of the staff, have us thinking that mountain weddings are the way forward. The best part? You get all this without driving hours to get it since Bear Creek is located right at the entrance of Mt. Spokane.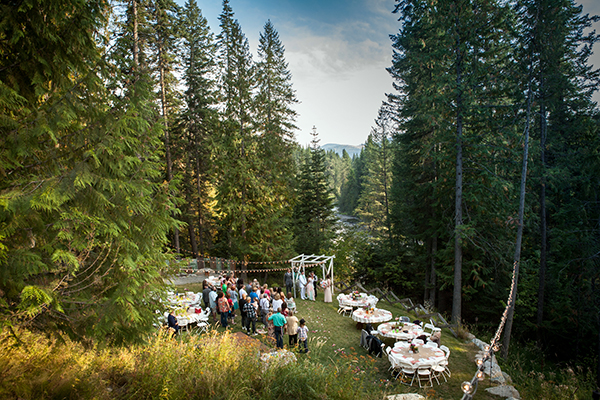 Photo by Jeremiah Andrews Photography
Cedar River Weddings & Events
Have you always imagined dancing the night away under the stars surrounded by majestic trees and a spectacular river view? Cedar River Weddings & Events specialize in intimate weddings for the adventurous at heart, and this venue truly embodies everything we love most about the Inland Northwest! (And you know that a venue created by wedding photographers is going to have some incredible photo ops!)
Photo by Franklin Photography
Commellini Estate Venue & Event Restaurant
Commellini Estate is a real Spokane jewel, with a rich history full of family tradition and Italian culture, dating back decades. Don't let that fool you, though, this is a modern venue with a variety of options for brides. 200+ Acres of Photo backdrops: The Estate includes a forest, prairie, pond, creek, 9 foot waterfall, rustic buildings, manicured lawns, a 1940 Army truck, and of course hours of endless photo opportunities on over 180 acres of property.
Photo by Jerome Pollos Photography
Elkins Resort
Elkins Resort is one of the few Spokane area venues that does have stunning, waterfront views, so you're in luck! This Priest Lake venue is surrounded by majestic mountains, with a historic log lodge and cabins and boasts outstanding food and service.
Ruby Creek Lodge
If a rustic wedding weekend, surrounded by your closest family or friends, overlooking the serene, idyllic landscape the Pend Oreille River has to offer sounds like total heaven to you, Ruby Creek Lodge is going to blow your socks off! This budget friendly venue is perfect for couples who want a wedding weekend packed full of outdoor fun, or just want to get married on the water.
Photo by Eternal Grace Photography
Schweitzer Mountain
You probably know it as one of the best local ski spots or a great hiking challenge during the summer, but we're willing to bet couples don't realize all of the amazing wedding opportunities there are nestled atop this gorgeous mountain location! With four different ceremony spots, each one boasting breathtaking views, no matter the season, you're sure to find the right option for your wedding.
Talus Rock Retreat
Nothing makes a wedding a full-on family affair quite like staying a whole weekend with everyone under the same roof. If you're looking to make a weekend out of your big day, you definitely need to check out the stunning Talus Rock Retreat!
Photo by Rosie Nary Photography
The Barn At Blue Meadows
Complete with a bridal suite and "man cave," this location has everything you need for a rustic fairy tale wedding! The small, historic town has become a tourist destination with many historical sites and buildings to visit as well as a many outdoor recreational activities, so your guests can stay busy all weekend long!
The Upriver Lodge
If you're looking for a truly rustic hidden gem in the mountains of Idaho, Upriver Lodge is the perfect venue for you! Boasting incredible mountain views and a babbling brook on site, it will truly give your wedding the ultimate picturesque backdrop. Worried about where your guests will stay? It's all inclusive!
Timber River Ranch
Timber River Ranch boasts stunning waterfront views, sprawling open areas surrounded by wooded areas and is one of the most private waterfront wedding venues in Eastern Washington. Imagine saying "I DO" along the river's edge in complete privacy then being whisked away for some waterfront wedding photos along the river just after your nuptials. If you are looking for a one-of-a-kind, open, spacious and stunning outdoor venue - look no further.