If you want a reception that goes off without a hitch, has a full dancefloor and is jampacked with fun for your guests, then hiring a professional DJ is the golden key to success. We are so blessed to be adding David from
Audio Affiliated
to our Featured DJ list. David has a wealth of experience in creating wedding receptions that run smoothly and most importantly, are a ton of fun for the couple and all their guests (if you don't believe me, check out the glowing testimonials from some of David's past clients at the bottom of the post!). Here is an interview with David about his training and experience.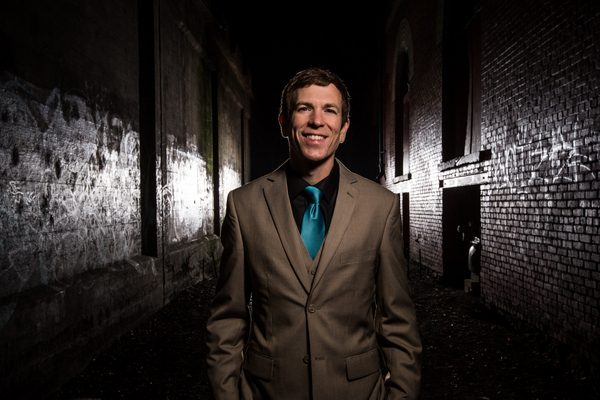 Tell us a little about how and why you started your business?
I started Audio Affiliated after graduating with an A.A.S. degree in Audio Technology. I was always fascinated with music and the music industry, which is what prompted me to study audio technology. Wanting to work in a field that I am passionate about and love doing everyday made music related work the only option for me. I've worked in live sound, music production, a little broadcasting and mostly as a mobile DJ. Live sound and wedding entertainment immediately stood out to me because of being naturally adept at them. I really enjoy the feeling of sharing and enhancing the experience of such a special day for the couples I work with. My first wedding DJ experience was at a close friend's wedding and it was so much fun that when the requests came to do it again, I jumped at the chance. Wedding entertainment soon became the main focus for Audio Affiliated. I began taking public speaking workshops, DJ workshops, and attending wedding entertainment workshops, which led to Audio Affiliated becoming a full-time mobile wedding DJ service!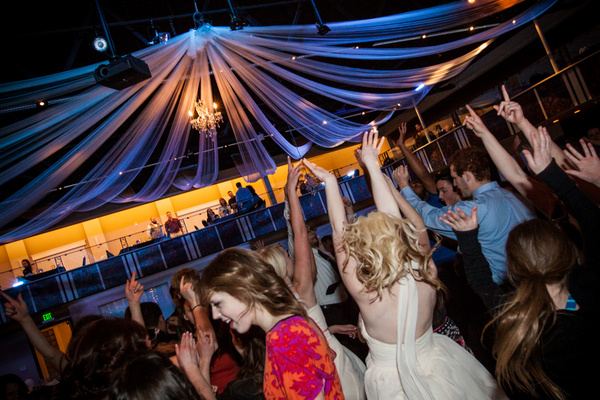 What services do you offer?
Mobile DJ, Master of Ceremonies (MC), Lighting Design and Custom Tailored Entertainment Planning.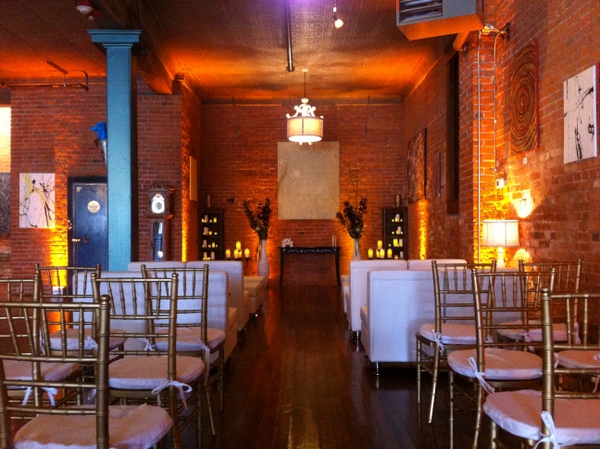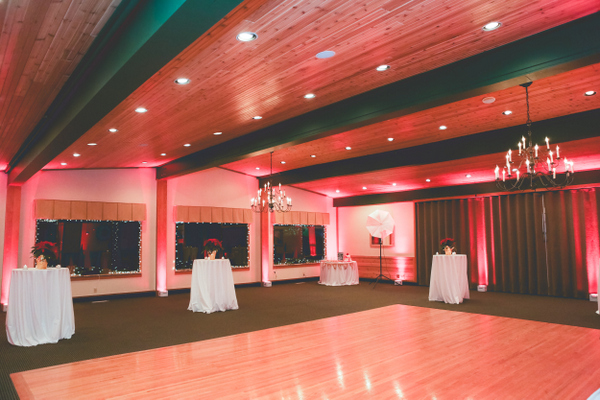 What makes your business unique?
Everything. Typically a DJ will show up, set-up sound equipment, play some music and make some announcements. What makes Audio Affiliated unique is HOW all of this is done. When booking Audio Affiliated couples are hiring a personality, a skill set, creativity, experience and expertise. They are hiring David at Audio Affiliated, and there is not another DJ just like me. Having studied wedding entertainment with some of the most regarded and recognized wedding DJs in the country, I have developed my own methods to create highly personalized weddings that celebrate each couple's own unique love story!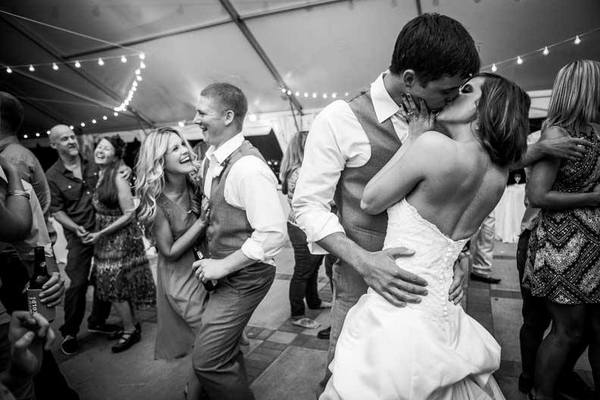 What can a bride and groom expect when working with you?
Most couples really appreciate the depth and purpose that goes into pre-planning with Audio Affiliated. Excellence is not an accident. By taking the time to get to know each couple, listen to their vision, exchange ideas and share my expertise we can plan a fun and romantic wedding celebration that reflects each couple's unique two-of-a-kind style! I have tons of ideas to share and I love working with couples that are looking for fun ways to have an unforgettable wedding celebration.
I am the owner-operator of Audio Affiliated and work directly with each couple through every step of the process, including being the DJ/MC at every wedding booked. There is no limit to the amount of meetings, emails, phone or Skype chats we have for pre- planning and the day-of DJ service does not have time restrictions. I book by the day, not by the hour. Couples have described their experience working with Audio Affiliated as unforgettable, stress-free, amazing, perfect, awesome, unmatched, fantastic, and fun!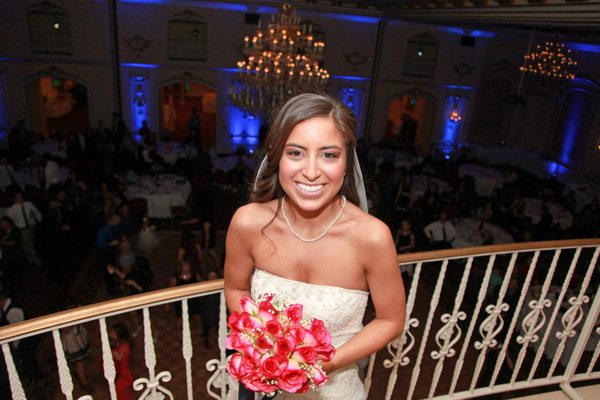 What do you like about working with couples on their wedding?
The whole process is quite rewarding, from the first meeting to seeing all of the preparation and lighting come to life on the day of the wedding. Sharing each couples love story with their guests is definitely a highlight too. The gratitude from each couple and their guests at the end of the evening never gets old either. I also love introducing new music to couples and visa versa. The challenge of making each segment of the evening have purpose and relevance to a couple's story and vision is probably my favorite part though. Putting all of the pieces together and structuring the evening's entertainment in a way that celebrates, honors and incorporates the details of each couple and their friends and family to create a genuine good time for everybody there.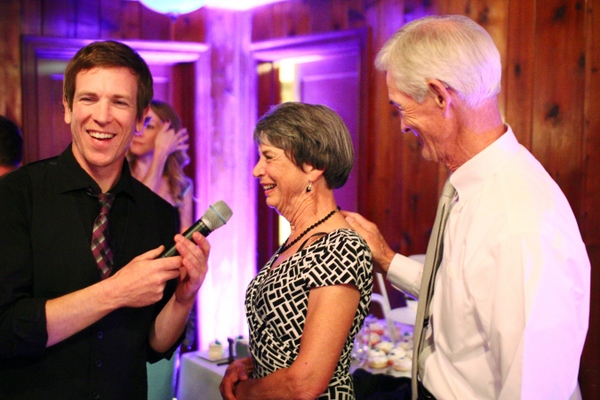 Is your DJ service a good fit for all couples?
Audio Affiliated is extremely versatile when it comes to the types of couples I work well with. Couples' differences are what I use to personalize their wedding celebration and I look forward to the things that make couples unique. That said, some couples may not find my services to be a good match for their wedding, such as wanting a DJ to just play music and not make announcements or introductions. Couples that prefer a basic or informal reception, NOT having the focus be on them and their love story may find my DJ style to make them uncomfortable. Other couples that want an over-the-top hype-man DJ, or maybe a line dance teaching DJ will be disappointed in my style. I like to focus on personalizing wedding celebrations to create a fun, romantic and informative atmosphere that keeps guests engaged and entertained for the reason we all came together, celebrating the love between two people.
What cities or areas do you serve and how far are you willing to travel?
Audio Affiliated serves Eastern Washington and Northern Idaho. I enjoy traveling very much and would be more than happy to discuss travel to any wedding destination!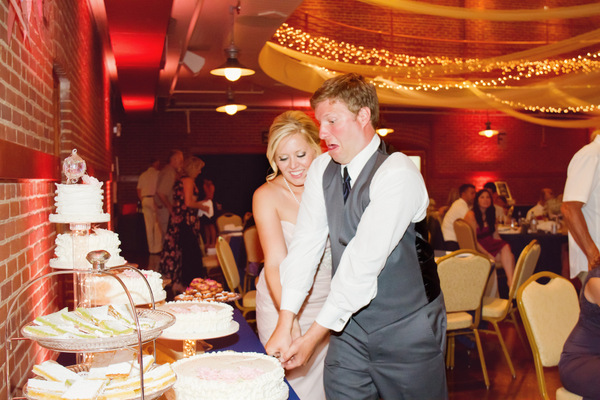 Do you have references and/or reviews from past couples you've worked with?
Absolutely! Audio Affiliated is one of the highest rated and most reviewed DJ services in the area, having earned a 5 star rating with over 60 reviews on weddingwire.com! Below are just a few of the reviews from past couples that I have worked with.
"Unforgettable! The impact the DJ has on a reception is so huge and sometimes overlooked. We were looking for someone to entertain, engage the crowd, and help our audience get to know the bride and groom, and that is exactly what David did. He spent time with us, getting to know us, getting a feel for our style, he paid attention to details and delivered an unbelievable experience that our guests have not stopped talking about! He went above and beyond our expectations with his lighting that set the tone and moved with the music, it was tasteful and professional, I was so impressed! Iwould highly recommend David, he was passionate, affordable and very customer centered. Thank you David so much!"
-Taylor & Jenna, married 12/27/2014
"David was an amazing addition to our entire wedding experience. From our first meeting, my husband and I truly enjoyed meeting him. He was very calm and helped us with many ideas for the reception. He continues to educate himself on hosting events and had current knowledge of wedding reception ideas. His worksheets were really helpful in preparing for the big day and everything was how we thought it would be. I really can't speak highly enough of David's ideas and preparation of our event.
As we got closer, he was very helpful helping my husband get the materials he needed to play live music at our ceremony as well. He is very knowledgeable of sound system equipment and knows how to make everything sound just perfect for pre recorded music and live music as well!
He had people dancing all night long at the reception, had our friends and family laughing, made us feel calm and supported, and truly gave us a beautiful and fun night. You could not find a nicer and more professional person for your wedding. Thank you David!!!! You rock."
- Alex & Brittany, married 07/11/2014
"I would highly recommend David and Audio Affiliated. We planned our wedding in four months and during that short time, David met with us several times and took the time to understand us and our wedding style. He had great suggestions to make our reception unique and special. David played the right songs at just the right moments which kept the dance floor full and our guests engaged and entertained all night. In addition to the DJ set up with dance floor lighting, David also brought uplighting. He carefully selected and installed lighting throughout the reception hall, which gave the whole venue an elegance and warmth you see in all the magazines. We couldn't have afforded this service had it not been offered through Audio Affiliated. Having worked in the wedding field in the past and helped several friends plan their weddings, I know what a difference having a quality DJ makes. When it was time to select a DJ I was worried about selecting the right one, especially since I am a perfectionist with high expectations. David with Audio Affiliated was the right choice. My every expectation was met and exceeded!"
- Glen & Amber, married 02/19/2012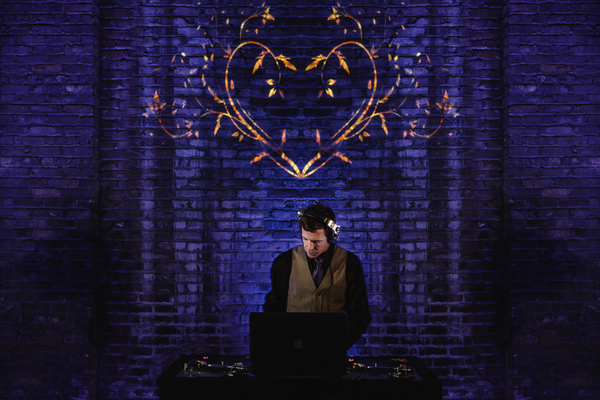 For more info, check out the Audio Affiliated website!
email
:
[email protected]
phone
: (509) 290 - 0933