So much goes in to planning your wedding. But how much thought did you put into the person who is actually going to legally marry you? It is so important to hire a professional Wedding Officiant - which is why we're highlighting our favorite in the Spokane area - Serendipity!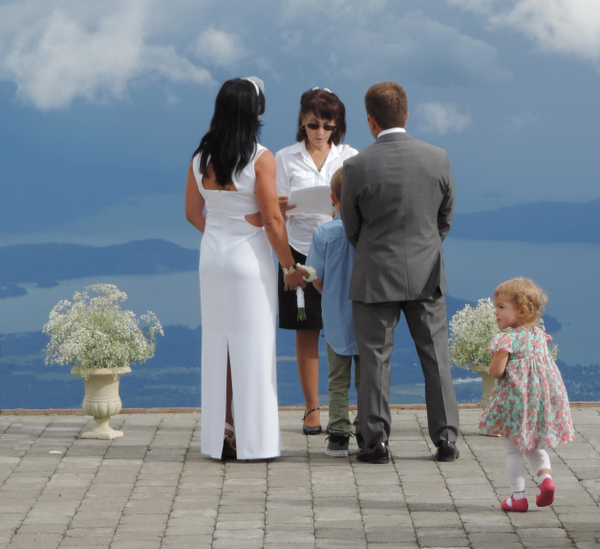 Finding someone who takes your ceremony as seriously as you do is a tough task. Ricki of Serendipity Spokane is a professional officiant who is just that, someone who crafts personal ceremonies for couples professionally. She has experience and thoughtfully works with each couple to create the wedding that will be best for them.
Serendipity has been officiating weddings for over 25 years, and ALSO functions as a wedding planner and coordinator. Talk about a complete package! Having been a part of hundreds of weddings over the years, Ricki has learned a thing or two about what it takes to make a wedding (and especially a ceremony) great.
We think this quote from her perfectly sets the tone for what you can expect from her as your wedding officiant:
"I don't see what I do as a job. It is an honor to be standing with two people as they look into each others eyes and vow to commit their lives to each other. This is not something I take lightly. I don't work like a lot of officiants. It may be because I started out as a coordinator. Every couple has their own love story. It is my job to bring it to light. I have so many ceremonies to choose from, but in the end, I want the ceremony to be uniquely theirs. I give each couple a calendar/timeline to help with the day to day planning of their wedding.I give reception guidelines. If requested, I help with the receiving line I give the couple a check sheet that helps keep track of guests invited, invitations sent, RSVPs, gifts received, and thank you cards. I can recommend venues and vendors. I often make the calls to see who is available I stage the ceremony, conduct the rehearsal, work with the DJ/musicians as well as the photographer, to make sure we are all on the same page, I cue the wedding party, and the music. I try to arrive between 45 minutes to an hour prior to the ceremony so I can help with any last minute issues. I also have an amp with bluetooth capacity that the couple is welcome to use for the ceremony."
Does that not sound so easy and amazing? When you hire Serendipity as your wedding officiant, you can trust that the single most important part of your day will be in the hands of a complete professional!
Still looking for more information about hiring an officiant? Check out Ricki's Apple Brides feature, "5 Things To Look For When Hiring An Officiant."