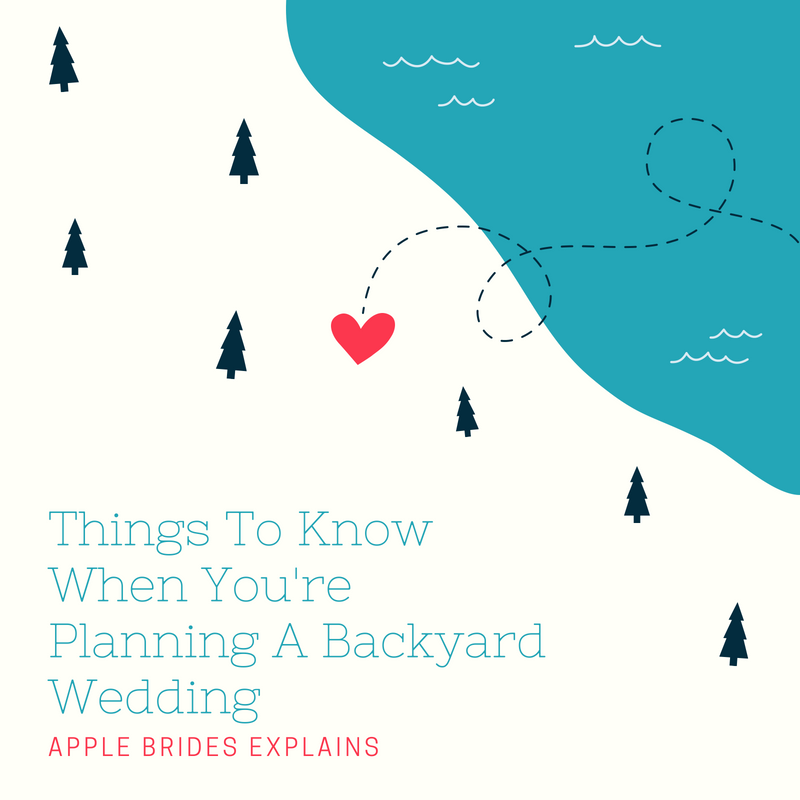 Planning a backyard wedding might seem easy, but there are lots of things to remember that you might not think of right away. Make sure your big day goes off without a hitch with our backyard wedding tips!
1. Don't forget bathrooms! Whether you're getting married in Grandma's garden or your parent's lakehouse, the bathroom sitch is likely not equipped for 100+ guests. Consider renting porta-potties or luxury loo's to accommodate your guests and keep the homeowners happy.
2. Lighting if your friend. Many people don't think about how dark backyard space can get once the sun goes down. Walking to the bathrooms or avoiding rocks/flower beds/any waterfront areas can be difficult once it gets dark. Rent lighting or install small sidewalk lighting to keep things safe.
3. Backyard doesn't mean you don't need professional vendors. Just because you're having a backyard wedding doesn't mean you don't need any professional vendors. Private property means a LOT of extra factors to consider-- and no staff to manage it like at a professional vendor. Make sure the rest of your wedding vendor team is professionally equipped to handle catering needs, event direction, sound and power capabilities and everything else.
4. Landscaping! Maybe your backyard collects extra water in one spot after a rainy day or that one tree is finally ready to be replanted. Make sure you take care of any landscaping and maintenance issues well before your wedding day.
5. Always have a backup plan. Unlike a professional venue, there's probably no indoor space to accommodate 100+ guests if it rains or weather gets bad. Having a tent on deposit/hold or another backup plan is always a good idea, especially with unpredictable PNW weather!
6. Parking! Private homes usually mean private home parking. You'll probably need to shuttle guests in to keep your neighborhood, and lawn, happy.
7. There's no quit time. Depending on the type of private property (in town, around other homes, out in the country) you may have a noise ordinance to consider and obey, but even that doesn't mean the party will shut down. This might be a huge perk in your opinion, and part of the reason you want to get married in a backyard. That's great! It also means eventually you will get tired and want to go to bed, and if Uncle John is still partying hard, that may prove difficult.
8. Generator-- seriously. Private homes are not meant to accommodate the kind of power that lighting, a DJ, and other various vendors will need. Rent a generator and have it on hand. Trust us on this one. You don't want to blow a circuit on one of the biggest days of your life!
9. Insurance is important. A professional venue will be insured to keep you, your guests and your vendors safe. Secure event insurance just in case-- it's a small expenditure that you hopefully won't need, but will be really glad you have if you do end up needing it!
10. Enjoy it! Having a wedding on someone's private property can be stressful for them. Whether it's your parents, a great family friend or your own home, make sure this person fully understand's what you're asking of them and is okay with it before committing. Consider hiring a cleaning crew for the next morning as a 'thank you' for helping you save money and celebrate! Most of all, enjoy your big day in a place that has so much special meaning to you. You'll never forget it!
Want more planning tips? Find them here!